Public Bus Service
A regular bus service to Wellow was a fairly recent acquisition. Local campaigning, with the eventual support of the Local Council, Local MP and European Community funding, was able to introduce a reasonalbly regular bus service. The service was available to Wellow from September 1998 to September 2006.
HOWEVER
This service will cease as of 22nd September 2006 due to financial cut-backs by Bath& North East Somerset Council. It is due to be replaced by a Fare Car Scheme with effect from 18th September 2006.
The Community comes to our aid....as of 1st September 2010 the Wellow Community Bus is now up and running, for details click on the logo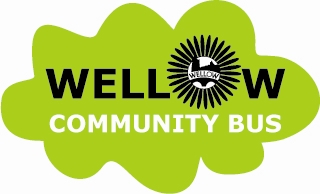 Details of the amended Public Bus Service
A Fare Car taxi service for more local people
Due to the popularity of the Fare Car shared taxi service, which was launched by Bath & North East Somerset Council last year in the Langridge and Northend area, an additional scheme was introduced on Monday, 18 September.
This new service will provide a door to door transport link from villager's homes in Combe Hay, Shoscombe, South Stoke and Wellow, to Bath City Centre. The cost of using the service is subsidised by the Council and fares have been set at £1.50 per person per single journey.
The first Fare Car scheme was launched just over a year ago to replace a declining rural bus service operating in the villages and hamlets north of Bath. This has been very well received and has been used by more people than the bus service it replaced.
This new scheme has been introduced to partly replace bus service 757. It works on a pre-booked basis and will be operated by Bath Taxis on Mondays, Tuesdays, Thursdays and Fridays.
Bus service 757 has had falling passenger numbers for a number of years. The service will not be completely withdrawn - the current weekly service from the villages to Radstock and Midsomer Norton town centres and Midsomer Norton Tesco is to be retained and will be operated on Wednesdays. Details of this service timetable provided by Somerbus is available here and follow the Bus Service for 757.
A spokesperson for Bath Taxis said: "We have been operating the Langridge and Northend area Fare Car service since it started in May 2005 and we are delighted that Bath & North East Somerset Council has selected us to operate the new service.
"We look forward to providing our new passengers with a friendly and efficient service and will provide additional help and support at the pick up points in Bath for the first few weeks to ensure things run as smoothly as possible."
For further information about Fare Car and to find out how to register as a scheme member, please call Bath & North East Somerset Council on 01225 477615.