Peter Watts. F.R.B.S.
The Maltings,
Mill Hill,
Wellow,
Somerset
---
Peter Watts
with his sculpture of
Virgin and Child Jesus, Church of St. Francis of Rome, Louisville, Kentucky, USA, 1986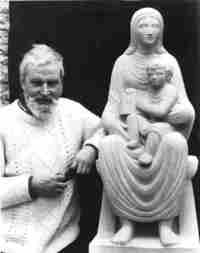 Peter was born 1916.
Eldest son of classical schoolmaster at Downside School, Somerset.
Apprenticed to stone carver Philip Lindsay Clark in London 1939.
Served in Royal Artillery 1939 - 1945.
Exhibited stone carvings in London and contributed to Art Journals.
Married Anne Coulson 1949.
Carried out stone restoration in Bath 1950 - 1960 including stone angels on Bath Abbey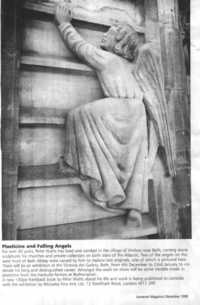 Peter and Anne's children are Joanna, Richard and Matthew born 1950, 1953 and 1960
His Original Church carvings for England and America were done in a rented studio in Bath.
Home studio built in Wellow in 1965.
Carvings for Gethsemani Monastery, Kentucky.
Bronze Crucifix commissioned by the Catholic Art Association in America for the Crypt of St. Peters, Rome.
1960 - 1980, stone carvings for the gardens of WETHERSFIELD HOUSE, AMENIA, NEW YORK, 12501 which is open to the public between June and September.
Below are a few examples of Peter Watts' work, others can be viewed on http://www.stoneangels.co.uk/PeterWatts.htm
Flute Player. Portland Stone, 5'0" 1966
Wethersfield Garden, Amenia,
New york, 12501
St. Hugh of Lincoln
Downside Abbey
Putto playing Mandolin, 1971
Portland Stone, 30"
Private collection
A few copies of Peters biography, "Chipping from Memory" are still available and can be obtained from him, priced £20, plus postage & packaging by writing to:- Mr. Peter Watts, The Maltings, Mill Hill, Wellow, Somerset