(29/09/2012)
HOUSE or FLAT WANTED TO RENT IN WELLOW
Dear Wellow residents,
2 bedroom cottage/flat required in Wellow area My partner and I, and our 4 year old son are looking for a new home in the Wellow area.
I work as a support worker and teacher for adults with learning disabilities while my partner studies full time at Bath University. I also work as a bookbinder restoring antiquarian books for booksellers and collectors.
We would like to find a new home soon, but may still be interested to hear from you in 2013 if you read this ad at a later date.
Steve Glendenning
---
(26/09/2009)
HOUSE FOR RENT REQUIRED
We are looking for a 3 or 4 bed detached house to rent in Wellow from the 1st of December 2009, furnished or unfurnished. We are currently living in Cape Town so are best contacted via e-mail on tess@lawrie.com
Many thanks,
Dr Tess Lawrie
+27 21 790 7778
+27 83 292 1379
---
(21/1/2007)
Property wanted in Wellow
We're looking for a detached house, ideally with some land and good views. Max budget around £850k. We would also consider properties needing renovation or modernisation.
Please contact Tony Husband e-mail: tonyhusband@hotmail.co.uk
---
(4/9/2006)
Storage urgently needed
Garage or store room needed to store furniture and boxes. Please contact Tim and Sara Wilson 07881 943489 0r 07909 580781
---
(15/03/2006)
Preliminary Presentation
Ben Hamilton-Baillie, our traffic consultant, will be giving a preliminary presentation on the proposals for the traffic calming in Wellow on Thursday next week, 23 March at 7.30pm at the Wellow Village Hall. We would appreciate as many people as possible to attend this meeting to discuss the proposals after the presentation so that they can be incorporated into the final draft plan later next month. The meeting should prove to be most interesting and stimulating.
Mark Watson
Wellow Parish Council
---
(03/03/2006)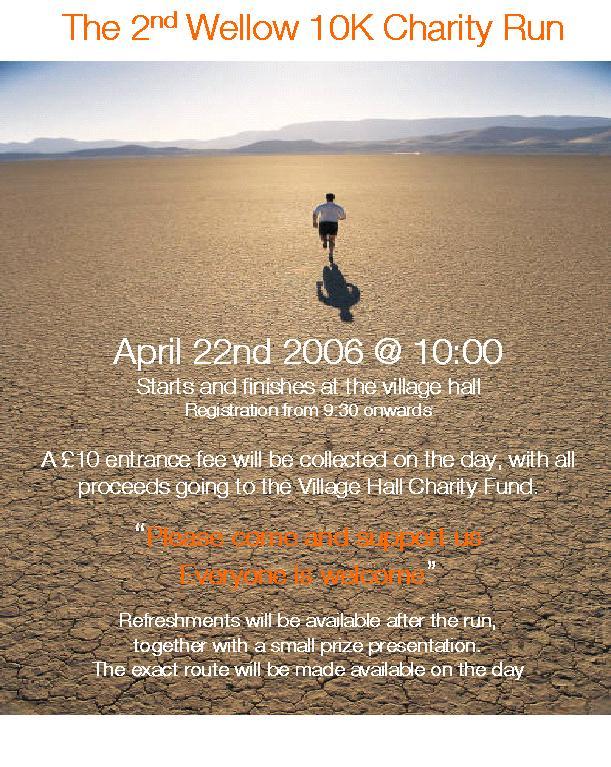 ---
(29/01/2006)
FUELLING THE FUTURE - Wednesday 22nd February 2006, 7.30pm at Wellow Village Hall - a FREE showing of the film "End of Suburbia"
Fuelling the Future
You are invited to a free showing of the film
The End of Suburbia — A Wake-up-Call for all Humanity
about the impact on our lives of oil becoming much more costly
The enormous rise in wealth (and of human population) in the last century has been possible only through cheap oil
Oil makes fertilisers, chemicals, medicines, and all plastics
Cheap oil drives our whole economy and transport systems
Supplies are now peaking – we are possibly within 4 years of severe shortages
Extraction will become more difficult, while demand continues to rise relentlessly, exceeding supply
Realistic alternatives to replace oil are unlikely within 20 years
What should we do – ignore it or take steps now to respond?
Learn more about the implications of Peak Oil – for ourselves, our families, our communities and our nation
Wellow Village Hall
Wednesday 22nd February, 7.30pm
There will be an opportunity afterwards to discuss the issues
For further information contact Richard Holland (833 348) or Alick Bartholomew
Please make a note in your diary and endeavour to attend this public showing. We feel It is important to be aware of what governments and business are not telling us...............
---
(17/11/2005)
WANTED
We have just moved into Wellow Farm, The Square, Wellow and would be grateful for help in the following areas:
Putting Runner Ducks to Bed
To put our ducks to bed on those odd occasions when we do not get back before dark. This involves giving them some corn and shutting the shed door, as they are well behaved. This could suit somebody still at school who lives nearby. Rates to be agreed.
Help with Typing / Sara Bee Fabrics
Sara needs help with typing up invoices to a simple format. Sara will write out the invoice and hand it or fax it, ideally to somebody who lives nearby. The time requirement is not great. Rates to be agreed.
Please contact Tim or Sara Wilson on 01225 8834929
Sara mobile: 07881 943489
Tim mobile: 07909 580781
---
(21/05/2005)
OPEN GARDENS at Rowley Grange, Farleigh Hungerford in aid of a new Garden of Remberance for the parish church in Norton St. Philip. Sunday 19th June - 2.00 to 5.30pm, No charge for entry but donations welcome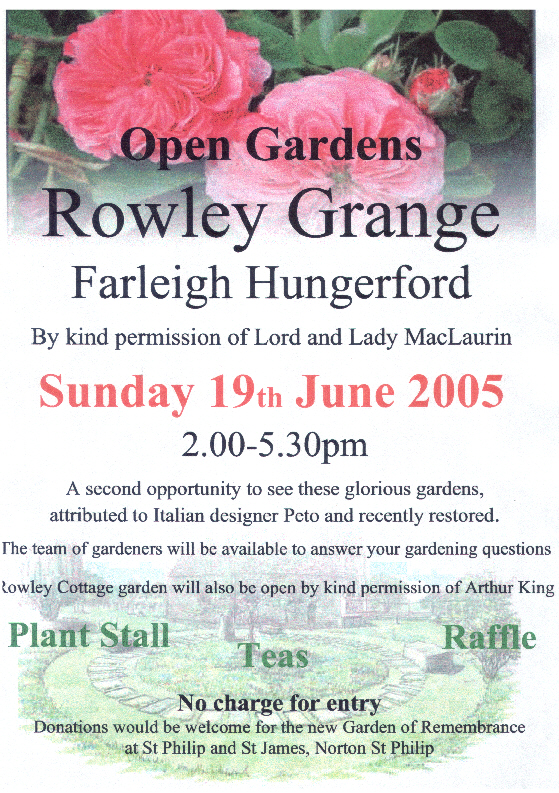 ---
(06/02/2005)
Seeking Accommodation
Elderly couple wishing to return to the West Country ,seek permanent rental accomodation, 2 bedroom cottage ideal. Willing to do upkeep of same in exchange for nominal rent providing rental period is permanent. We are past residents of the village of Clutton so know the area very well.
J Coulson Mr.
Email. johnelizabeth@bigpond.com
---
(10/12/02)
Nanny in Canada!??
Young family are looking for an outgoing, energetic and fun loving person to care for their two children. Do you like working with children? Are you adventurous and would like to explore the Rocky Mountains? We are looking for someone that is interested in coming to Canada to work with our children for at least one year. For further information please email us at jnoelmartin@hotmail.com
Noel & Nancy Martin
---
(07/07/02)
Wellow's Golden Jubilee celebrations prove to be a fantastic success as demonstrated by a sample of the photographs included here
---
(16/05/02)
David & Alison from Mill Hill are currently hatching a number of ducklings (not personally). Any one with a pond who may be interested in giving them a good home. Our phone number is 01225 833291.
Many Thanks
Ali & Dave
---
(28/04/02)

Midsummer Ball


POSTPONED UNTIL NOVEMBER 2002


To be held at Priston Mill, Near Bath on Friday 19th July 2002 at 7.30pm until 1.30pm.

In aid of the N.S.P.C.C.

Price £35 to include a Three Course Dinner.

Black Tie.

Featuring "The Kingswingers" and "The Blitz Roadshow Disco".

Send a SAE with cheque to reserve tickets to:-

Sally Carroll, The Coach House, Rood Ashton, Wiltshire. BA14 6AS - Tel: 01380/871779

Fiona Raby, Spring Bank, Beechwood Road, Combe Down, Bath. BA2 5JU - Tel: 01225/837105

(6/11/01)

Housesitter in Wellow

Do you need a housesitter and someone to feed and care for your pets while you are away on holiday? My recently retired parents live a long way off in South Africa and miss seeing their children and grandchildren. They visit us a couple of times a year but it is now a bit of a tight squeeze in our small cottage. So if you live in the village and need a couple of good reliable housesitters they may be able to help out in return for the proximity that it would provide to their family here in Canteen Cottage.

Their next visit will be in December. If you might be interested in a housesitting arrangement at this or any other time please contact me, Di Dalgliesh, at my email address (didalg@doctors.org.uk) or by telephone (01225 833765)."

(23/9/01)

Wellow Amateur Dramatic Society

Calling all who would like to sing:

We woluld like to form a choir this year for the St. Julian's Church Christmas Carol Service which usuallly takes place the Sunday before Christmas. We find it difficult to do this within our group so are sending out this appeal for anyone wiilling to join us. We just need enthusiasm and committment to at least six rehearsals at the Church prior to the event. Rehearsals are alwys most enjoyable. Pauline Preddy's encouragemant to hit a few high notes and try something a little different always pays off in the end.

Please Contact Pauline on 01225 832625 or Mary on 01225 837732 by October 27th if you would like to join us.


(30/6/01)
Here is a photo taken back in January at the launch of Zanyme.com at the Pavilion Bath.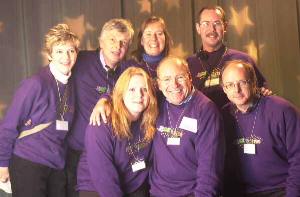 (16/5/2001)
Major Church Event for June

Flower Festival at St Julian's Church, Wellow and Commissioning of New Group Ministry.

Friday 15th to Sunday 17th June 2001.

The parishioners of Wellow, near Bath, are preparing for a major event in their Church life.

The ladies of the Farmborough Floral Art Group have chosen Wellow to be the venue for their magnificent displays this year. The theme of the Flower Festival is "Wellow through the Ages" portraying many aspects of village life over the centuries. Wellow is rich in history from Roman times to the present day, and the displays promise to be both beautiful and informative.

The beauty and diversity of the flowers will be enhanced by performances of music. There will be a Jazz Evening on Friday 15th June featuring the local group of musicians entitled "Mellow Wellow". Various organists will be playing throughout the day on Saturday. On Saturday evening the "Freshford Gallery Minstrels" will be playing Victorian instruments, which will include musical accompaniment to the literary work of Thomas Hardy.

Sunday 17th June will be a significant day in the life of St Julian's. Bishop Jim Thompson will preach at the Morning Service at 11.15am. The Wells Cathedral Voluntary Choir will lead the singing and perform their own pieces in the service.

In the afternoon, several gardens in the village will be open, where teas will be served and plants will be for sale. Refreshments will be served in Church throughout the Festival.

Deanery Evensong at 6.00pm will be the occasion when the Archdeacon of Bath will preach and commission the New Group Ministry of seven parishes. The existing Group Ministry of the benefice of Peasedown St John with Wellow and the benefice of Camerton with Dunkerton, Foxcote and Shoscombe will be extended to include the benefice of Timsbury and Priston.

The old heating system at St Julian's Church has been condemned, which has meant that parishioners have also been condemned to three winters of cold and shivering! The Flower Festival marks the launch of a Heating Appeal for £20,000.

If you would like to have more information about the Festival, or would like to book tickets for the concerts (both start at 7.30pm), please contact Jenny Nixon on 01225 837024.
---
Missing Cat - 18th April 2001
Christabelle,
a Black and White Tabby Cat, 14 year old and very friendly has gone missing in Wellow.
She belongs to Mr. & Mrs. Williams who have recently moved to Wellow.
Please look out for her in and around Wellow and if found contact:-
Mrs. Angela Williams
Manor Farm Barn
Farm Lane
Wellow
01225 830188
LATEST NEWS - Christabelle has now returned thankfully (22/4/01)
---
Missing Cat(20/3/2001)

Otto has now been found this week 9/4/2001 in Combe Hay!
Click here for the story

OTTO, a neutered male of Siamese appearance, steel grey in colour - micro-chipped

Please contact: Irving, Court Farm House, Wellow. Tel:01225 835358 or 835208

Please look in garages, sheds, outhouses etc.

REWARD FOR RECOVERY
---
(11/3/01)
Young Villagers to trek to India in 2002
For details of the intrepid youngsters
CLICK HERE
(14/2/2001)
Despite the Planning Officers for B&NES trying desperately to recommend that our Village Shop banner be refused planning permission the Local Councillors on the development control sub-committee rallied to our aid and APPROVED the sign. We are particularly grateful to Gitte Dawson, our Local Councillor, for her vigorous support in supporting our application. It is only a shame that the Planning Officers are not so committed to the enforcment of planning infringements by Mr. Rothschild at the Signal Box, Wellow!!!
---
Thank you (03/0/2/2001)
We would like to express our personal thanks to all who have sent cards and messages of support following our recent time in hospital. Shirley now has a working kidney that has been donated by Chris.
Chris & Shirley Hurdle
To place a notice on this board you can leave your information or e-mail admin@wellowparish.info, or Telephone 01225 833348