Bell Ringers
We are a young band of ringers. That's not to say we're all spring chickens, but we like to think we are all young at heart and keen to enjoy our new found or re-kindled enthusiasm.
The current band was set up in mid 1999, by Revd Brian Sutton, with the aim of developing a band to ring in the New Year 2000. Fortunately, and in no small part, as a result of Brian's wonderful teaching the band showed a great desire to continue to develop their newly taught skills.
On 27th May 2000, Brian organised a Bell Ringing Tour into the deepest, darkest depths of the Devon/Dorset/Somerset borders to try our hand at ringing in five different towers. Stopping only for coffee - at Broad Windsor, lunch - at Forde Abbey and tea - at Winsham. The day increased our sense of camaraderie and achievement, was great fun and developed the band's ringing abilities.
On Saturday 5th November the band took part in a "Band Training Day" organised by The Bath and Wells Diocesan Association of Change Ringers' Education Officer, Mr. G. Wood. We travelled early that morning to St. Andrew's Curry Rivel, (8 bells, tenor 18-0-21) near the Somerset Levels, to meet up with the experienced bellringers that had kindly agreed to be our trainers for the day. As we are newly formed group it was apparent to, and suggested by, our trainers that honing of basic bell handling skills should be concentrated on. This we duly did and much to our benefit. One of our number even rang with her eyes shut in order to rid her of the habit of looking up at the bell when catching the sally. Obviously she was closely supervised by the trainer, but he did walk away and leave to ring, eyes still shut, once he was happy that she was finding the sally without difficulty. When he suggested she open her eyes she was astounded! So, we won't publish which of our band it is, providing she doesn't revert to looking skyward to catch the sally!
From Curry Rivel we travelled to the Church of the Blessed Virgin Mary at Huish Episcopi, (8 bells, tenor 15-2-7) to continue with our development on a new peal of bells, giving us a chance to put into practise the text book skills we have now acquired! Leaving Huish we set about looking for somewhere to lunch and refreshment.
After lunch we moved on to South Petherton, St. Peter & St. Paul,(12 bells, tenor 22-3-15) to combine with all the other bands that had taken advantage of this marvellous day. The idea at South Petherton was to ring our 'Party Piece' in the presence of the assembled throng. We chose to concentrate on ringing well struck rounds rather than try to do anything complicated, particularly as none of us had rung on twelve bells before. We completed said 'Party Piece' and felt we had discharged our duties with due diligence and even surprised ourselves!
All in all it was a thoroughly enjoyable, informative, challenging and happy collaborative day that will go down in the annals of history.
Things that have happened:
See the article in The Bath Chronicle dated 2nd September 2003 regarding the fate of the tenor clapper. CLICK HERE
Our latest Ringing Tour - Saturday 31st July 2004
On a quintessentially beautiful British summer's day our intrepid band of ten started out at 9.00am from St. Julian's Church, Wellow before heading south into Somerset and destined for St. Mary the Virgin Church, Templecombe. The Church is set in a wonderfully elevated postion close to the Railway Station and within the centre of Templecombe. Here the ring is on a 6 with a Tenor weight 12-3-0. A relatively light ring compared to our bells which presented us with a somewhat flighty beginning. However we overcame our nerves, to a degree and got used to the difference ready to ring down for 10.45am!
| | |
| --- | --- |
| The Ringers | St. Mary the Virgin, Templecombe |
From Templecombe we drove the short distance to the beautiful setting of Horsington and the Church of St. John the Baptist. Another 6 bell tower with a Tenor weight 12-0-0. Here we met up with a couple more of our band to bring us to an intrepid twelve. Whilst a light set of bells the consensus was that these handled better for us and we settled to a pleasant ring and even attempted a plain course or two of "Grandsire Doubles". Tea and coffee was taken in the glorious sun before finishing at 11.45am ready to head to our next tower.Our thanks go to Mrs. Jean Mills-Smith for meeting and accompanying us at these first two towers and indeed for augmenting the band so willingly.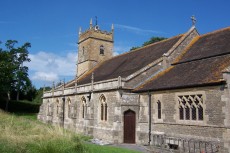 St. John the Baptist, Horsington
Our next stop was at the magnificently kept Church and grounds of St. John the Baptist in North Cadbury and a tower we all felt very similar to our own at St. Julian's. Here we were met by Tim Watt who explained the layout of the tower and let us "get on with it". The tower here is also a 6 bell but with a Tenor weight 19-1-0 thus handling is much the same as at home and so we settled into a steady ring giving eveybody the opportunity to ring if they wished. Our ring here ended slightly later than anticipated thus eating into our lunch period!!
| | |
| --- | --- |
| St John the Baptist - ringing | St John the Baptist, North Cadbury |
And so to our planned lunch stop at the Quarry Inn in Keinton Manderville for about 1.20pm. A thoroughly pleasant interlude with good quality food presented promptly and to eveybody's liking. We stayed here eating and chatting until 2.30pm before leaving and heading south for West Camel and the Church of All Saints, 6 bells, Tenor weight 11-3-13. A somewhat delayed arrival here due to the inordinate amount of traffic on the A303 which prevented many of us actually crossing the road. A detour ensued which meant most didn't arrive until some twenty minutes after our anticipated arrival! However, once settled in we rang at this further beautiful setting for a short while before making our way to the next and final destination for the day.
| | |
| --- | --- |
| At the font, West Camel | All Saints, West Camel |
This last stop was at the Church of St. Peter in West Lydford. St. Peter's is situated adjacent to an old stone packbridge where the grassy banks of the Churchyard run down to reeds and the slow flowing stream beyond. The bells are again a 6 with the Tenor weight of 14-0-0. By this time of the day the band were definitely beginning to flag and whilst enjoying the pleasant ring the spirit was willing but the flesh was weak. We therefore finished ringing for the day promptly at 4.30pm to make way for another band of ringers on their tour. Our following band made the bells sing in a way we can only admire and seek to aspire to.
| | |
| --- | --- |
| St Peter, West Lydford | St Peter, West Lydford |
Thus the 2004 tour drew to an end with everybody wending their way back to Wellow and home, exhausted, challenged and ready for Sunday ringing for Church. Well perhaps at the end of the day we were not quite looking forward to ringing the next day but it is fair to say that the experience produced a well rung session before the service on Sunday.
Next year we will probably reduce the tour to four towers in the day and thus leave ourselves a bit more time the enjoy the beauty of our glorious English country Churches and their surroundings.....without having to dash off to the next to maintain our schedule!
Richard Holland
---
Our Previous Tours:-
St Julian's Ringing Tour, 21st June 2003
This years tour was on Saturday 21st June 2003 and took in five towers in Dorset and Wiltshire at Maiden Bradley, Bourton, Silton, Lunch at The Benett Arms in Semley, Motcombe and Chilmark.
Details of this marvellous ringing tour will follow in due course, but for now, here is a pictorial journey of the towers visited expertly drawn by our resident artist Mr. Colin Tremellen:-
All Saints - Maiden Bradley
St. Georges - Bourton
St. Mary's - Motcombe
St. Nicholas -Silton
St. Margaret of Antioch - Chilmark
---
St Julian's Ringing Tour, 15th June 2002
Leave Wellow at 8.30am and travel to Horsley arriving at 9.43am
1) Horsley, S Martin, 8 bells, Tenor 13-1-1, Grid Ref:ST837980
Contact: S. Burrage, 01453 832952 7 Old Bristol Road, Nailsworth, Stroud.
Ringing from 9.45am to 10.30pm
The ringing chamber is at ground floor level. EMB records the tenor as weighing approx 14.5 cwt! The bells were rehung by Whites of Appleton in 1989 in a new 8 bell frame, and were augmented to 8 in 1994. 1. Whitechapel, 1994, 4-2-13 2. Whitechapel, 1994, 5-0-11 3. Abraham Rudhall I, Gloucester, 1712, 5-0-20 4. Roger Purdue, Bristol, 1632, 5-1-14 5. Roger Purdue, Bristol, 1632, 6-0-9 6. John Rudhall, Gloucester, 1796, 7-0-1 7. Mears & Stainbank, London, 1871, 9-0-27 8. Thomas Rudhall, Gloucester, 1776, 13-1-1 in F (Data:Brian White 1998)
Travel Horsley to Minchinhampton arriving 10.39am
2) Minchinhampton, Holy Trinity, 6 bells, Tenor 12-0-8, Grid Ref:SO873007
Contact: Dave Pobjoy 01453 834 236. 5 Orchard Mead, Nailsworth, Stroud, GLG OPRE.
Ringing from 10.45am to 11.30am
The bells are all on metal headstocks with ball bearings. They were rehung by Taylors in 1973. 9. Abraham Rudhall II, Gloucester, 1719, 6-0-6 10. John Taylor, Loughborough, 1906, 5-3-10 11. Abel Rudhall, Gloucester, 1756, 6-3-2 12. John Rudhall, Gloucester, 1797, 7-2-12 13. John Taylor, Loughborough, 1973, 8-3-22 14. John Rudhall, Gloucester, 1825, 12-0-8 in F sharp (Data:EMB+Sharpe 1967)
Travel Minchinhampton to Leonard Stanley arriving at 11.49am
3) Leonard Stanley, S Swithun, 6 bells, Tenor 13-3-1, Grid Ref:SO802032
Contact: N. Amphlett 01453 824196 38 Dozule Close, Leonard Stanley, Stonehouse, Glos GL11 5RY.
Ringing from 12.00 noon to 12.45pm
These are a complete Taylor six dating from 1908. They were originally hung in the previous frame which soon proved unsafe. The bells were unringable for many years, until they were removed in 1979. The old frame was replaced in 1982 by Whites of Appleton with a new wooden one which sits on a concrete floor half way up the tower. The bells go very well, and sound excellent. The ringing chamber is at the ground floor, in the chancel crossing. Parking is in the lanes outside the church. 15. John Taylor, Loughborough, 1908, 5-0-3 16. John Taylor, Loughborough, 1908, 5-2-21 17. John Taylor, Loughborough, 1908, 6-3-15 18. John Taylor, Loughborough, 1908, 7-1-26 19. John Taylor, Loughborough, 1908, 10-0-6 20. John Taylor, Loughborough, 1908, 13-3-1 in F sharp (Data:EMB+Sharpe 1971, A.M.Bull 1993, C.J.Pickford 1993)
Travel Leonard Stanley to Frocester arriving for 1.00pm
Lunch - Frocester - The George Inn 1.00pm to 2.00pm
Travel from Frampton to Eastington arriving at 2.08pm Eastington,
4) S Michael & All Angels, 6 bells, Tenor 11-0-4, Grid Ref:SO783057
Contact: Gary Dingle 01453 825542 The Ivies, Alkerton, Eastington, Stonehouse, Glos.
Ringing from 2.15pm to 3.00pm
These bells used to hang in the church of S.Peter, Frocester, demolished in 1954. They were probably rehung by a local carpenter, rather than a professional bell hanger, since the fittings were rather amateur in appearance before a recent rehanging. The bells sound ok and go well. The ringing chamber is up a short steep ladder and through a tight trap door. In 1650, W Whitmore cast two bells for the Clewer Tower at Windsor Castle, where they still form the 2nd and 3rd of the ring of eight there. It is known that W Whitmore was resident in Watford between 1647 and 1657, and that he also worked in conjunction with the Hodsons of London (H.B.Walters "Ut Supra", p233). At Bredon, Worcs., there are three bells dated 1624 which are by "W Witmore". It is probable that they were the same person, but that he changed the spelling of his name. 21. W Whitmore, 1639, 4-2-12 22. Mears & Stainbank, London, 1892, 4-0-25 23. W Whitmore, 1639, 5-1-12 24. Mears & Stainbank, London, 1892, 6-1-17 25. W Whitmore, 1639, 8-0-11 26. Abel Rudhall, Gloucester, 1743, 11-0-4 in F sharp (Data:EMB+Sharpe 1971, Sharpe, C.B. of Berkshire p300)
Travel from Eastington to Cam arriving at 3.15pm
5) Cam, S George, 6 bells, 14.5 cwt, Grid Ref:ST757993
Contact: Mrs. M. Robson, 01453 543991 16 Tilnor Close Normanhill Dursley, GL11 5RY
Ringing from 3.15pm to 4.00pm
The nearest parking to the tower is in the lane along the north side of the church. There is a small gate which leads into the churchyard. The ringing chamber door is in the outside of the tower on the north side. The bells were rehung, retuned, and the treble recast in 1994 by Taylors. They sound nice and go very well. The previous treble (6-0-6) was by T. Blackbourn of Salisbury, 1901, is now the service bell. The frame is also by T.Blackbourn in 1901. 27. John Taylor, Loughborough, 1994, 6-1-12 28. Abraham Rudhall I, Gloucester, 1710, 5-3-22 29. Abraham Rudhall I, Gloucester, 1710, 7-0-12 30. Abraham Rudhall I, Gloucester, 1710, 7-2-4 31. Abraham Rudhall I, Gloucester, 1710, 9-1-18 32. Abraham Rudhall I, Gloucester, 1710, 12-3-26 in F (Data:EMB+Sharpe 1975, Ringing World No.4375, p213)
Travel home to Wellow arriving 5.33pm - Feet up and pour a large one!
---
St Julian's Ringing Outing, 9th June 2001
From Yeovil take A37 signposted Dorchester. In 9miles (40 from Wellow) turn R to:-
Melbury Osmund St Osmund 6 bells, Tenor 10cwt Ref 574079 The village roads are narrow and there is restricted parking at the church. Ringing is from a first floor platform overlooking the Nave. Thomas Hardy's parents were married here, his mother being born in one of the nearby cottages. Ivan Andrews comments, of the bells, "these are a light six, although some are quite odd struck"
Return to the main road and turn R. There is a pub on the left advertising coffee but does not open until 11-30. In 9 miles turn R to :-
Cattistock SS Peter and Paul 8 bells, Tenor 13cwt Ref 592995 There is some parking in front of the church. The priest in charge on the day of my visit, Janet?, assured me the eight bells were the best 'ring' in Dorset. Cattistock once had a carillon of 35 bells each with an inscription, I like; " Think when the bells do chime T'is Angels' musick, Therefore come not late." See the web site print out for others. This church is one of Simon Jenkin's 1000 best, included for its William Morris stained glass in the South aisle. We may be lucky to get coffee at the nearby Fox + Hounds if it opens earlier on Saturday than its weekday time of 12 noon. (Should we take our own coffee to be sure?).
Return to the main road through the valley, called 'Charity Bottom'. Turn R on A37 for 200 yards then L on through a ford, 5 miles to :-
Cerne Abbas St Mary, 6 bells, Tenor 13cwt Ref 666012 Plenty of parking and coffee/lunch opportunities, The Singing Kettle serves light lunches, very clean but food plain, greater scope for the carnivores at the Royal Oak, c1540, and the New Inn, serving restaurant and bar meals. Gift shops abound, one has a novel kitchen clock featuring the Cerne giant, with an unconventional second hand. (A snip for the vulgar tourist at £30) Cerne Abbas is steeped in history; a Benedictine Abbey was founded in 987 AD. The parish church of St Mary dates from c 1300. The rare stone chancel screen is one reason for its choice as another of the '1000 best churches.' The Victorians, of course, could not leave it alone.
Leave the town eastwards, beyond the church, turn R into Piddle Lane. Continue to Piddletrenthide.*
I also visited:- Piddlehinton St Mary the Virgin, 6 bells, Tenor 12 cwt Ref 706829 A very English scene, a small, medieval church in a not too tidy churchyard. Piddlehinton was once called Hyne-Puddle, then Honey Puddle. Unfortunately the bells are rung from the floor below the South Tower, the oldest part of the church. There is a longish rope draft of twenty feet or more. Perhaps these are not for us.
At the main road in Piddletrenthide*, turn L then second R up a steep narrow lane through Plush, to Mappowder. Foot and Mouth precautions are in place on the Lane.
Mappowder SS Peter and Paul 6 (anticlockwise) Tenor 12cwt Ref 735059 This small church was heavily restored by the Victorians, but is light, spotless and well cared for. I would have liked the challenge of the anticlockwise ring that has been newly restored. The decayed staircase to the first floor chamber has been removed and the new ropes extended to the floor with guides, at a convenient height, to steady them. Perhaps we hold Mappowder as a reserve if any of the other towers are not available. In the church, I was being 'shown the ropes' when and American couple came in, looking for traces of their ancestors, the Coker family, and in a loud voice the woman shrieked "Oh gee here they are, doesn't it make you feel funny!" My guide whispered to me that the Cokers had made their money from the slave trade, but thought it wise not to pass that on.
Continue past Hazelbury Bryan and Kingston, another ford, then turn R (signpost broken off), turn R again at the car scrap yard at Knacker's Hole to:-
Okeford Fitzpaine St Andrew, 6 bells, Tenor 11cwt Ref 807108 I found no one to show me the bells, but the ringing chamber is reached via a wooden staircase from the Nave floor. The rear of the churchyard is an award winning nature conservation area; you may remain to be convinced. The church guide includes a sobering report of the 1957 incumbent losing his life when the 5th, raised, bell overturned one Sunday. Ivan Andrews says they are a nice six normally available to visitors.
Return through the village; turn R to the A357 and then L. In 2 miles R at traffic lights to:-
Sturminster Newton St Mary, 6 bells, Tenor 16cwt Ref 788140 St Mary's is set in a superb location, on the edge of the town, to the rear of the Market Square, (pay and display parking). Parking outside of the church is restricted, but I am assured that late on a Saturday afternoon most places would be free. The church has recently been the target of vandalism, it was locked and in spite of a telephone call the day before, I could not find anyone to let me in. We can rely on Ivan Andrews comments, "The bells have recently been restored and are now rung from a new ringing chamber upstairs. A very good choice." Tea and cakes can be had in the Red Rose tearoom. The voluble proprietor, being an ex choirmaster, was of the opinion that if we patronised him afterwards he would pass comment on our performance. He will be hard to please. If we do badly; there are pubs open all day that serve refreshments. If we wish to DIY there is also a public riverside walk outside the town and a picnic site at Sturminster Newton Mill.
---
To get a good sound from the bells depends not only on each individual's skill in controlling the bell but in learning how to work together as a team.
The current band consists of the following members as at November 2017:
Friends sadly no longer with us - Gordon Hewlett and Revd Brian Sutton - greatly missed by all
If you would like to become a member this band or just come along to the Tower and see what it is all about then turn up on Friday practise nights and you will be warmly welcomed (Location Map: Click here). Alternatively telephone Richard or Clover Holland on 01225 833348 or e-mail at Richard@cromwellow.myzen.co.uk