WELLOW COMMUNITY MINI BUS
Registered Charity No. 1146173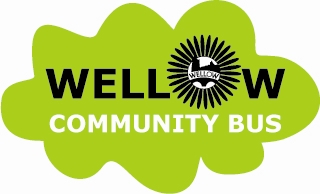 Wellow Community Bus Group has published our latest timetable giving details of our popular morning and afternoon / evening commuter and school services from the Village Square to and from Bath. Note: the pickup place in Bath is the bus stop on Corn Street opposite the Avon Street multi-storey car park.
We try to avoid empty journeys where possible, so please remember to leave a text or voice message on the minibus mobile phone 07580 868407 if you want to be picked up from Bath at 8.00am or from the Odd Down P&R at 8.40am
There's no need to phone if you are leaving from Wellow, just wait at the bus stop in the Square before the departure time.
If you have any questions about our scheduled services please phone our Helpline (Mike on 07854 414084)
The bus is available for group bookings on Saturdays, Sundays and most weekday evenings. Contact Prakriti on 07900 163167 for enquiries and reservations.
We're always keen to fit in with village needs so please tell your driver or contact us with your ideas. And if you have new neighbours, tell them about the bus!
NORMAL SCHEDULE
Timetable : Monday - Friday

WELLOW - BATH

(Riverside Coach Park)

BATH - WELLOW

(Riverside Coach Park)

WELLOW- ODD DOWN P&R
ODD DOWN P&R - WELLOW

7.35am*

8.00am on request**

8.25am*

8.40am on request**

5.30pm

5.55pm

3.00pm

Drop off/pick up in Bath is from the bus stop on Corn Street opposite the Avon St. car park

Fares

Adults (multi-tickets available - buy 4 get 1 free)

16 and under

OAP's go free

Wellow - Bath = £5.00each way

Wellow - Odd Down P&R = £3.00 each way

£2.50 each way

£1.50 each way
* To avoid empty journeys, these buses will not run if there are no passengers in the Square at Wellow.
** To request a return pick-up, telephone the bus mobile 07580 868407 at least 30 minutes in advance and leave a message or text..
Helpline: Can't find the bus? Need to check times? Mike on 07854 414084
MINIBUS AVAILABLE FOR GROUP HIRE
Group bookings: The Bus is available for group bookings on most Saturdays, Sundays and weekdays from 9am - 3pm and after 6.30pm
Minibus group Hire is £1.00 per mile (minimum £30.00).
For information and reservations please contact Prakriti on 07900 163167
GROUP USE

The bus is available for community group use by arrangement

Prakriti Karthauser on 07900 163167
Print off a BOOKING FORM
---
Wellow Community Bus Group Committee Members:
Mike Clarkson (Chairman), Geoff White (Treasurer), Christina Chauveau, Prakriti Karthauser, Lucy Pearman
The Annual Report for 2020-2021 is available HERE
Support and Assistance from the following is gratefully acknowledged:
Bath & North East Somerset Council
Wellow Parish Council
Bath Audi
The Fox & Badger and The White Hart
King Edward's School
All our passengers and volunteers!
---
A Bit of the History
Ever since Wellow lost its B&NES-subsidised bus service in 2006, the village had been pressing for an alternative way of enabling people to reach shops, services and amenities without relying on the private car. This was identified in the Parish Plan as vital to meet the needs of those without the use of a car - particularly young people and older residents - to reduce traffic through the village and to decrease our carbon footprint.
The first step towards a solution came in 2009 when Wellow Parish Council secured a COMMA grant through Community Action, a member of ACRE (Action for Communities in Rural England), sufficient to buy a 15-seater minibus. Popular demand was confirmed by a new household survey, and several residents offered to help as volunteer drivers for the bus. Several local businesses came forward with offers of sponsorship, with their logos to be prominently visible on the bus.
Wellow Community Bus Group was established, with a sizeable local membership, as a not-for-profit enterprise. The committee drew on the experience of successful community transport schemes elsewhere, and the advice of the Community Transport Association. In 2011/12, the organisation became a Charitable Company Limited by Guarantee, through registration with the Charity Commission and with Companies House.
The Bus started operations in September 2010, and now has a team of volunteer drivers and a group of 3 professional drivers. The service has grown in popularity over time, with 3.000 passengers in the first year doubling to over 6.000 passengers carried in 2014 and it continues to evolve.
In spring 2017 we were delighted to receive the award from the Department for Transport's Community Transport Fund of a brand new Peugeot Boxer16-seater minibus.
We still rely on volunteer effort on a day-to-day basis, on the active support of B&NES Councillor Neil Butters and B&NES Community Transport team, and on the generosity of our Corporate Sponsors, the Parish Council and individual donors.
Further offers of help are always warmly welcomed, either as an occasional driver or as a committee member.
Mike Clarkson - September 2022