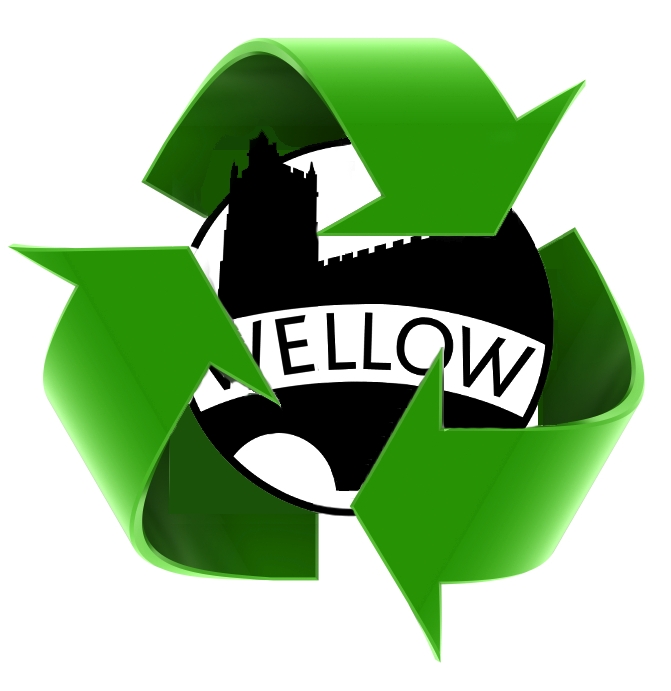 Wellow (F)ree-cycle
Items listed for sale/collection January 2013
Item description
1. Mahogany four-poster bed frame and headboard. 4 foot 6 inches. Excellent condition. Reasonable donation to church funds. Call: 01225 834987

2. Epson Colour Inkjet Printer - Stylus DX6000 in reasonable working order. Free to collect. Call: 01225 837878 between 6-9pm

3. Quantity of old grey barn rectangular stable blocks.
4. Bath stone effect fireplace with Jetmaster. Fully functional. Good condition. (Photo's available from when it was in situ).
5. Bathroom, white, ceramic hand basin and pedestal, good condition.
6. Granite worktop, brown/ black flecks.

Items 2-5 free to collect. Call: 07890 017146

7. 4 Pale Green cushions and matching nylon covers for 2-seater wing-back sofa and 2 chairs. Excellent condition. £30 ono. Call: 01225 833996
Wellow (F)ree-cycle Scheme
The Wellow (F)ree-cycle Scheme was set up to save villagers' time and money, reduce trips to the tip and to reduce waste. The scheme is open only to residents of Wellow Village.
The scheme is titled "(F)ree"-cycle as some items are recycled for free, whilst higher value or nearly new items are sold.
A list of items for sale or "free to collect" is collated before the 15th of each month and published monthly in the Wellow Parish News and on this page of the village website.
It will be free to advertise and hand on a "free to collect" item. However if a sale is made, a £1 fee or 5%* of the received price (*which ever is the greater) is donated to the Wellow Church Building Fund on an honesty basis.
If you want to sell/donate email the following details before the 15th of the month to Catherine Beale at catherine@catherinebeale.com:
1) your name and email address (this will only be used by the administrator and will not be published)
2) title & short description of item (no sales adjectives) with approximate age and value if possible
3) price wanted or that it is "free to collect"
4) sellers/donator's telephone number by which you give permission for the number to be published against your item in the Wellow Parish News and at www.wellowparish.info.
The list will appear in the following month's Parish News as well as below.
5) when the item has been taken email catherine@catherinebeale.com again to remove the item from the list and pay the £1 or 5% donation to the Church Building Fund.
Conditions:
Items will be removed from the list after two months being advertised.
All items to be legal, carry no age restrictions and be in a reasonable condition.
All communication and agreements including collection of all items will be held between the seller/donators and the applicants only and not involve the Scheme Administrator.
Members use this scheme entirely at their own risk.
Queries: Call Catherine: 07891 409490 (leave message if unavailable) email: catherine@catherinebeale.com
Items listed for sale/collection January 2013
Item description
1. Mahogany four-poster bed frame and headboard. 4 foot 6 inches. Excellent condition. Reasonable donation to church funds. Call: 01225 834987

2. Epson Colour Inkjet Printer - Stylus DX6000 in reasonable working order. Free to collect. Call: 01225 837878 between 6-9pm

3. Quantity of old grey barn rectangular stable blocks.
4. Bath stone effect fireplace with Jetmaster. Fully functional. Good condition. (Photo's available from when it was in situ).
5. Bathroom, white, ceramic hand basin and pedestal, good condition.
6. Granite worktop, brown/ black flecks.

Items 2-5 free to collect. Call: 07890 017146

7. 4 Pale Green cushions and matching nylon covers for 2-seater wing-back sofa and 2 chairs. Excellent condition. £30 ono. Call: 01225 833996