Wellow Parish Council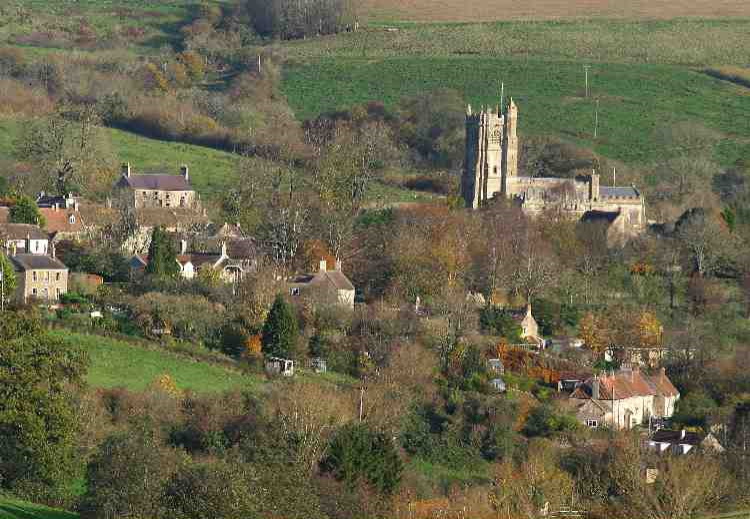 COUNCIL'S STANDING ORDERS POLICIES & FINANCIAL REGULATIONS
WELLOW RECREATION WELLOW PARISH PLAN
---
Wellow Parish Council meet 11 times a year generally on a first Monday of the month, except August.
In addition an Annual Meeting of the Parish Council, when a new Chairman is elected is held in May.
The Annual Residents Meeting is held between 1 March and end of May. Residents meet to discuss local matters
---
The next Wellow Parish Council Meeting
will be held on Monday 17th April 2023 @ 7:30pm
in WELLOW VILLAGE HALL, Wellow
LATEST AGENDA HERE
For the latest published Minutes of Wellow Parish Council meeting MARCH 2023
The Annual Meeting of Electors and the Annual Parish Council meeting is scheduled for 18:30 hours on Monday 17th April 2023.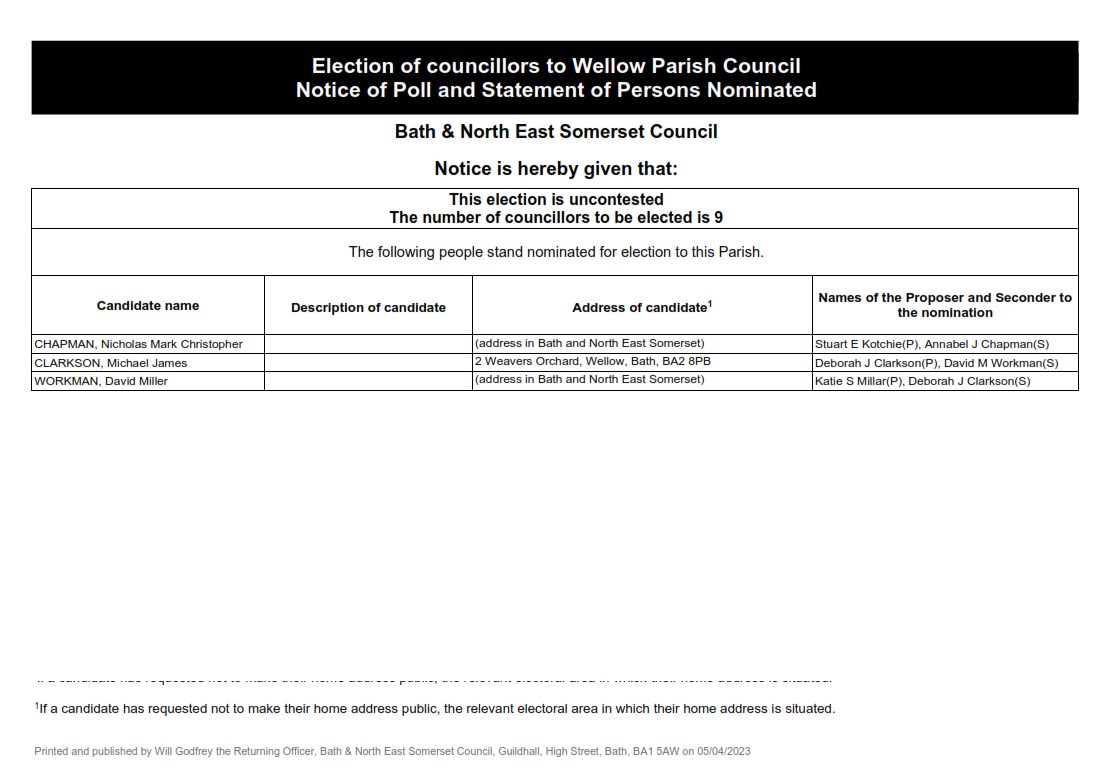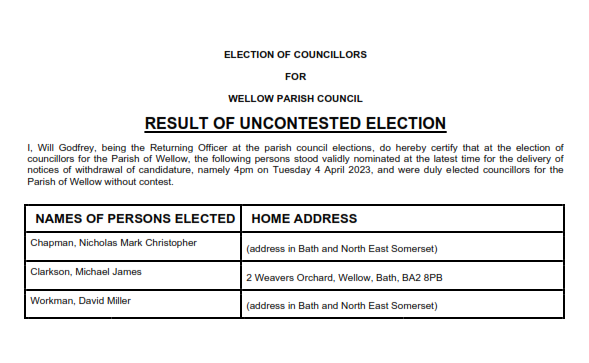 ---
An uncontested election of Council members for a period of 4 years took place on Thursday 2nd May 2019.
Wellow Parish Council currently has 8 members of 9 possible who will serve for a peiod of four years from 2nd May 2019 .
The Parish Council generally meets on the FIRST MONDAYof each month at 7:30pm in Wellow Village Hall. All meetings are open to members of the Public. The Agenda for the next meeting is published three clear days before that meeting and displayed on the village notice board in The Square, Wellow. Anyone wishing to include an item on the agenda should make representation to the Parish Clerk (as of 26.09.2019), Olga Shepherd, 07988 192619 or e-mail CLERK at least one week before the next meeting.
---
Councillor Address/Telephone and Responsibilities/Sub-committee (Confirmed 20.05.2019)
Mrs. Pat Caudle, 3, Henley View, Wellow, BA2 8PZ, Chairman, Planning, Village Hall Register of Members' Interests
Tel: 01225 837788 E: Pat@wellowpc.org.uk
Mr. David Workman, Bath Hill House, Wellow, BA2 8QZ, Vice Chairman, Traffic, Defibrilator, Burial Board Register of Members' Interests
Tel: 01225 833331 E: Dave@wellowpc.org.uk
Mrs. Debbie Clarkson 2, Weavers Orchard, Wellow, BA2 8PB, Planning, Wellow Recreation & Play Park Register of Members' Interests
Tel: 01225 233688 E: Deb@wellowpc.org.uk
Mrs. Susan Chivers Wellow House, Wellow, BA2 8QE, Planning (Trees), Village Hall, St. Julian's Primary School, Volunteering Register of Members' Interests
Tel: 01225 832778 E: Sue@wellowpc.org.uk
Mr. Nick Chapman, Church House, Wellow, BA2 8QS, Finance, St. Julian's Primary School, Rights of Way Register of Members' Interests
Tel: Not available E: Nick@wellowpc.org.uk
Mr. Nigel Thomas, Court Cottage, Wellow, BA2 8QS Register of Members' Interests
Tel: 07770 632289 E: Nigel@wellowpc.org.uk
Mr. David Phillips, Willow Farm, Wellow, BA2 8PU
Tel: 07712 582936 E: David.Phillips@wellowpc.org.uk
All Councillors - Responsible for Village Maintenance
Clerk and Responsible Financial Officer as of 26.09.2019: Olga Shepherd, Tel: 07988 192619 or e-mail: CLERK
The Burial Board of Wellow and Shoscombe Cemetery - Clerk to the Burial Board - Olga Shepherd E: clerk@wellowpc.org.uk or T: 07988 192619 or H: Home Farm, White Ox Mead, Wellow, BA2 8PN
---